40th Annual Pride Parade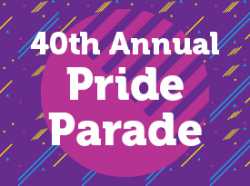 When:
Sunday August 5 at 12:00PM


About:

August 5, 2018 - 12-3pm

A celebration. A protest. A party. A place to take up space. An opportunity to don our finest and shiniest. A chance to recognize how far we have come and reflect on where we need to go from here. Ask ten different people and you will receive ten different answers on what the Pride Parade means to them.

Whatever your reason, we invite you and yours to the 2018 Vancouver Pride Parade. We can't wait to see you there!

****Getting to the Pride Parade ****

Stay tuned for our map of the 2018 Parade Route and road closures so you can plan ahead!

****Access Information****

If you require any assistance related to accessibility or have any questions please contact accessibility@vancouverpride.ca.

There are two accessible Pride Parade viewing areas.

The main one is located on the North side of Beach Ave at Broughton. This space features accessible portapotties and a shaded viewing area with chairs and space for mobility devices. ASL interpretation of Parade commentary is provided. Live Description of the Parade for those with vision loss is provided by VocalEye. Volunteers are available to assist you.

A secondary accessible viewing area is located outside of Denman Place Mall. This area features a shaded viewing area with chairs.

More accessibility information will be provided as it is confirmed.


****Parade Emcees****

Stay tuned for names and locations of our vivacious Parade Emcees who provide lively commentary of all Parade Entries!


We recognize this event takes place on the unceded, occupied territories of the x?m??kw?y??m (Musqueam), S?wx?wú7mesh (Squamish),and S?l?ílw?ta?/Selilwitulh (Tsleil-Waututh) peoples and are thankful to our hosts in their stewardship of the land for time immemorial.