Sunset Beach Festival 2019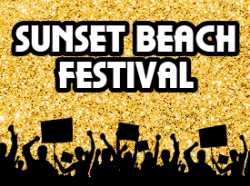 When:
Sunday August 4 at 11:00AM

Where:
Sunset Beach Park
1204 Beach Ave, Vancouver British Columbia V6E 1V3

Map It
Visit Facebook Event
About:

Join us for a festival along beautiful Sunset Beach with a Main Stage, Sunset Beach Oasis, Community Zone, Family Fun Zone, beer garden, food trucks, interactive art and more!

Come by after the Parade or come early and dance all day beside the water! We will be ready for you.

**TD Main Stage**
Beach Level - Sunset Beach

Headlined by Eureka O'Hara and Shuga Cain

Check back soon for full line-up!

**19+ Zone**
Beach Level - Sunset Beach

Shake your booty from 11am onwards to high energy dance music spun by local DJs at the Stoli Vodka Stage. Looking for a cool drink and a chill time? Bring your beverage into the newly expanded shaded lounge space on the grass near the water.

**Sunset Beach Oasis*
Street Level - Beach and Broughton

Navigating substance use at Pride can be complicated: many of us have complex relationships with substance-use within queer communities. This is why, in 2019, Vancouver Pride Society is launching the Oasis at Sunset Beach.

Whether you are looking for queer-centric recovery, information and supplies for safer partying, or a lower traffic area to hang out and rest with friends, the Sunset Beach Oasis is the place for you. Enjoy a break at a shaded picnic table or pick up information on harm reduction and recovery so you are equipped to make safer choices during Pride and the rest of the year.

Visit Karmik to pick up safer partying supplies or ask questions about drug use and safety in a judgement-free space. Talk to Together We Can - Addiction Recovery & Education Society to learn about Alliance (GBTQ+) and All My Relations (Indigenous) recovery programs. Take time to reflect on those we have lost to the fentanyl poisoning and overdose crisis at Last Door Recovery Society's Memorial Tree and add the names of lost loved ones to the tree's branches. Learn about recovery capital and Recovery Day BC, BC's largest addiction recovery event.

**Community Zone**
Street Level - Beach and Broughton

The Community Zone features booths from our many Community Partners who work year-round to advance human rights and support local communities. Learn how you can access support, get educated on LGBTQAI2S+ issues, and play fun games and activities.

This space is lower-intensity and adjacent to the Sensory Friendly Space provided by Canucks Autism Network.

**Family Fun Zone presented by Hollyburn Properties Ltd.**
Street Level - Beach and Jervis

Bring the family down to the Sunset Beach Family Zone and enjoy our brand new Hollyburn Community Stage with low-key n' local performers. The Family Fun Zone features free and low-cost, by-donation entertainment for people of all ages.

** Vendor Village*

Our Vendor Village features ~170 vendors featuring everything from local queer artisans to informational resources to rainbow fabulous Pride swag.

**Access Information*

ASL has been booked for the main stage.

Visit our Sensory Friendly Space hosted by Canucks Autism Network at Beach and Broughton behind the Accessible Parade Viewing Area.

Check back for more access information as it is confirmed.

**Getting to Sunset Beach**

It is difficult to find parking anywhere downtown during Pride. If possible, walk or #ridetopride and park your bike at one of our two stations with The Bicycle Valet. We will update this section when we have confirmed bus re-route information.