Almost Solstice LOUD Picnic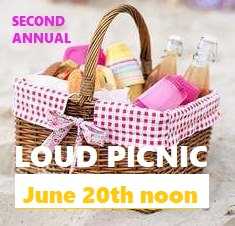 When:
Thursday June 20 at 12:00PM

Where:
David Lam Park

Visit Website Buy Tickets
About:

Celebrate the last day of Spring, Summer Solstice and our Community.

Join us for Networking 'al fresco' at David Lam Park.
A little more casual than normal, but we are rarely formal! Everyone gets to introduce themselves as always, and say what they are looking for, maybe give a testimonial about another LOUD member.
We will be at the southwest corner near the grove of trees near the washrooms. Look for the LOUD pink umbrellas and the pop up tents. Some chairs/blankets will be provided, consider bringing something.

There will be a catered box lunch by Emelle's Catering. A sandwich, salad and a personal pie. mmmm pie.
A selection of cold beverages is provided.
Gluten free sandwich option available in advance, and once your order is placed, we will contact you for your selection of turkey, ham or tuna. So, if ordering more than one, please either provide the name and email for each guest, or take responsibility for their order! Last year all of Emelle's choices were so tasty!

We had a great time last year and it was decided that this should be an annual event! All welcome.
NEW: We have a sponsor who is inviting any LOUD Scholarship recipients to attend for free!