Chicks Ahoy! Pride Boat Cruise Party 2019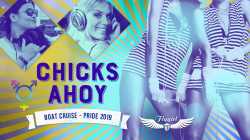 When:
Friday August 2 at 7:00PM

Visit Website Buy Tickets
About:

Sail away from the glass and concrete of Coal Harbour and dance into the sunset on the sleek, newly renovated Magic Charm at Magic Yacht Charters 1601 Bayshore Drive, on Fri Aug 2, 2019, 7pm-11pm for Vancouver Pride 2019!

With panoramic views, a big outdoor deck, two floors, two lounges, and gender neutral washrooms on each level, the Magic Charm's the perfect place to kick off Pride weekend. Bring your rainbows, sailor getups, and get wild with us for this beloved Vancouver Pride tradition.

Save the parties in the city for the rest of the weekend—this boat charmed the pants off us (and we think you'll feel the same).

Tix: $54.99+GST advance available. Early birds sold out.

DJs: Miss M (Dinah, Vancity) & Nathalie Morel (UK, Vancity)

As always (aka. the last 15+ years), LGBTQIA2+ everyone (19+) welcome!
All washrooms are gender neutral.
Trust your Pride weekend to Flygirl. Creating legendary Pride experiences since 2001.

ABOUT FLYGIRL
Flygirl produces award-winning events for lesbian, bi-sexual and queer women, LGBTQIA folks and all allies to party, connect with new friends, and maybe even find someone special.

Our events are inclusive of all genders, sexualities, ethnicities, and body-types.Our mission is to bring people together to celebrate our authentic selves, cultivate community, and share the love—both on and off the dance floor. We're a small, tight-knit group that puts on big events.On the dance floor, we celebrate.

Off the dance floor, we volunteer, raise funds, partner with non-profits, create alliances, and take a stand for causes we believe in.

What are you waiting for? The dancefloor is waiting.