Chicas in the Afternoon 2019. Post Parade Party.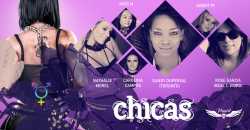 When:
Sunday August 4 at 4:00PM

Visit Website Buy Tickets
About:

Welcome to the perfect way to start your Pride Sunday, at a day party on Sun Aug 4, 2019, 4pm-9pm at Sheraton Wall Centre 1088 Burrard Street, Vancouver. Come after brunch or whatever shenanigans you're up to in the morning and join the outdoor party.

Luxurious outdoor lawns, sunshine, cocktails, picnic blankets, unicorn floats..... Chicas is steps from the Gay Village on Davie. There will be dancers, debauchery (if we're going by what we've seen, oh, every year), and a sick roster of DJs.

We're stoked to welcome back Sandy Duperval from Montreal / Toronto, whose live DJ + singing performance last year was so amazing that we got an overwhelming number of requests that she come back. And of course, she'll be joined by Pride vets Nathalie Morel, Agent 99, Carolina Campos and long-time Vancouver favourite DJ Miss M.

And did we mention Rose Garcia from The Real L Word and the Red Bull Lab Bar will be here too? Grab a customized cocktail and come get down with us.

Tix: $47.50+GST advance.

As always (aka. the last 15+ years), LGBTQIA2+ everyone (19+) welcome!
All washrooms are gender neutral.
Trust your Pride weekend to Flygirl. Creating legendary Pride experiences since 2001.

ABOUT FLYGIRL
Flygirl produces award-winning events for lesbian, bi-sexual and queer women, LGBTQIA folks and all allies to party, connect with new friends, and maybe even find someone special.

Our events are inclusive of all genders, sexualities, ethnicities, and body-types.Our mission is to bring people together to celebrate our authentic selves, cultivate community, and share the love—both on and off the dance floor. We're a small, tight-knit group that puts on big events.On the dance floor, we celebrate.

Off the dance floor, we volunteer, raise funds, partner with non-profits, create alliances, and take a stand for causes we believe in.

What are you waiting for? The dancefloor is waiting.