Babes On Babes and Bands // PRIDE Thursday // ft. The Pack AD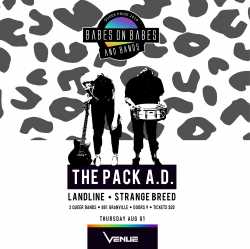 When:
Thursday August 1 at 9:00PM

Where:
VENUE Nightclub

Visit Website Visit Facebook Event Buy Tickets
About:

Babes Vancouver Pride season is on the horizon. There's simply too much talent to squeeze into 1 night and this year we have 2 epic shows lined up Thursday Aug 01 + Sunday Aug 04!

Kicking off the weekend on Thursday with our Babes On Babes & Band's Pride edition Featuring international Queer band
Babes On Babes Vancouver is a Queer Long Weekend event. We are a collective of artists, DJs and event producers with the shared passion to showcase and celebrate local and international Queer talent.