Keep Dancing - Pride Kickoff Party/Premiere Afterparty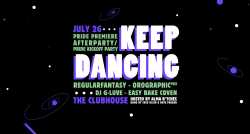 When:
Friday July 26 at 10:00PM

Where:
The Clubhouse - 238 E 1st Ave

Visit Website Buy Tickets
About:

PRIDE PREMIERE AFTERPARTY / PRIDE KICKOFF PARTY

After Public Disco at Pride Premiere, let's KEEP DANCING to celebrate the beginning of Pride week with a GIANT warehouse PARTY!

Queer HOUSE music ALL night!! 19+

NEW LOCATION - The Clubhouse - 238 E 1st Ave

HOSTED by Alma B Itches

MUSIC ARTISTS
• 10 - 11 easy bake coven
• 11 - 12: G-Luve
• 12 - 1:30: Orographic (PDX)
• 1:30 - 3am: Regularfantasy

DANCE PERFORMERS
• Coco Klein
• Nathan Fadear

CoME with YOUR LEWKS!
FREE ENTRY in DRAG!

TICKETS
$10 - early bird
$12 - online or before 11pm at the door
$15 - at the door after 11pm
*no one turned away for lack of funds. Message Public Disco for pay what you can ?

10% of profits go towards the Vancouver Pride Society Community Bursary Program!

Produced by Public Disco & Bye Felicia YVR

GOOD VIBES ONLY
• It doesn't matter who you are, who you love or how you identify, you are welcome here. Oppression, judgment, and harassment are not.
• Please be mindful of the energy you bring to this space.
• Drink responsibly, ask for consent, respect personal space and promote positivity.

DRESS TO EXPRESS
Public Disco events aims to be a safe space for people of all ages, genders, ethnicities, abilities and sexual orientations to come together and enjoy music side by side. We encourage you to come dressed to express your own unique identify, and ask that you respect other people's right to do the same without judgement.