Accessibility at Pride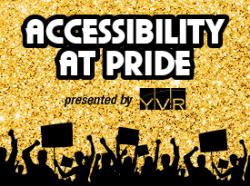 Notice of Location Change
The main Accessible Parade Viewing Area has been moved from Alexandra Park to the south side of Beach Ave. at Broughton. This area is larger and provides a better view of the parade. It is also a shorter distance to the Sunset Beach Festival!

Beach Ave at Broughton Viewing Area
- ASL interpretation of Parade commentary
- Visual description of Pride Parade
- Intervenor services if request for Deaf-blind community members
- Increased shaded seating area
- Raised bleachers for expanded viewing
- Water station
- Limited adjacent Accessibility Parking prior to 11:00am. Vehicles can not be removed until end of Pride Parade at aprox. 3:00pm. Please contact accessibility@vancouverpride.ca to arrange.
Specific Event Accessibility Info
Each event has its own accessibility information, wherever possible.

To inquire about an accessibility service or reserve an accessibility area space on Parade day, contact us at:
Email: accessibility@vancouverpride.ca
Phone: 604-687-0955



SUMMARY OF ACCESSIBILITY SERVICES
The Vancouver Pride Society provides the following Accessibility Services in 2018:
ASL Interpreters
ASL-English interpretation is available at StandOUT! Awards, East Side Pride, Pride Sports Day, and the Sunset Beach Festival.


Intervenors We will hire intervenors upon request for community members who are Deaf and blind.

Shaded Accessibility Areas
Shaded Accessibility Areas are set up for attendees at all Festivals and the 2018 Vancouver Pride Parade.


Accessible Parade Viewing
Accessible Seating and space for mobility devices is available at all Festivals and the 2018 Vancouver Pride Parade.


No Cost Water at Accessibility Areas
In order to ensure that Accessibility Area attendees have an enjoyable and safe Pride experience, water is provided at no cost for Accessibility Area attendees at Festivals and the 2018 Vancouver Pride Parade.


Reserved Parking
Limited deserved parking is available at the new Beach and Broughton Accessible Parade Viewing Area for the 2018 Vancouver Pride Parade. Please call or e-mail ahead to reserve.


Fully Accessible Gender Neutral Washrooms
Fully Accessible Gender Neutral washrooms are available onsite at all our Festivals and the 2018 Vancouver Pride Parade.




The Magic of Drag Tent NEW! Enjoy our new accessible tactile
drag show, The Magic Of Drag, produced
in partnership with Tuck Entertainment
and VocalEye.


Descriptive Narration for Visually Impaired Community
The 2018 Vancouver Pride Parade will be described for people who are blind and partially sighted by VocalEye. Headsets and priority seating will be provided free of charge for people with vision loss in the Accessible Parade Viewing Area from 11 am to 3 pm on Parade Day. Reservations are required. Seating and equipment are limited.