Accessibility at Pride
*NEW* Accessible Shuttle to Beach Ave and Broughton Accessible Parade Viewing Area
We are proud to announce that we are able to provide a free shuttle service in 2019, courtesy of our new partnership with Translink.

The shuttle will bring passengers one block away from the Accessible Parade Viewing Area and is beside the Sunset Beach Festival.

The shuttle will run between Waterfront Station and Beach at Jervis on Parade Day at the following times:

Depart from Waterfront Station on Cordova at Granville Street at:

9:30am (arrival at Beach&Jervis - 9:50am)

10:15am (arrival at Beach&Jervis - 10:35am)

10:55am (arrival at Beach&Jervis - 11:20am)

The bus will arrive at Waterfront 10 minutes prior to departure time to load.

Depart from Beach Ave. and Jervis:


4:00pm

5:00pm

6:00pm

The bus is scheduled to arrive 15 minutes before departure time to allow passengers to load.

The low floor bus is able to take two motorized wheelchairs/scooters at a time. The bus has no stairs. People using walkers can walk on and fold their device to sit in regular seats.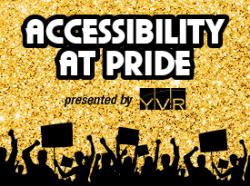 Accessible Viewing at the 2019 Pride Parade

The main Accessible Parade Viewing Area was moved in 2017 from Alexandra Park to the south side of Beach Ave. at Broughton. This area is larger and provides a better view of the parade. It is also a shorter distance to the Sunset Beach Festival! In 2019, the size of this space has been increased to accommodate for a larger number of guests.



Beach Ave at Broughton Viewing Area

- Emcee reading Parade commentary
- ASL interpretation of Parade commentary
- Visual description of Pride Parade-Blind community members provided by VocalEye
- Increased shaded seating area
- Raised bleachers for expanded viewing
- Accessible portapotties
- Limited adjacent reservation only Accessibility Parking prior to 11:00am. Vehicles can not be removed until the end of Pride Parade at aprox. 3:30pm. Please contact accessibility@vancouverpride.ca to arrange.

West End Community Centre Viewing Area


This smaller accessible viewing area includes chairs under shade tents and space for mobility devices under shade tents. Attendees can access the washrooms inside the West End Community Centre.


Reservation Information for Accessible Parade Viewing

In 2018 we reached and exceeded our capacity for attendees in the Beach Ave and Broughton Viewing Area for the first time. To address this we have expanded this area, doubled the amount of available bleachers, and increased the number of chairs available. We have also changed our reservation system.

Half of the space in the Accessible Parade Viewing Area is first-come first-served. Half of the space has been reserved for those who contact us ahead of time. Those who make reservations must arrive prior to 11:30am to claim their seat. At 11:30am we will release reserved seating to anyone who is waiting in line for the area. If you make a reservation, please ensure you arrive prior to 11:30am.

Friends and family are welcome to come but we ask that you limit your guests to four (4) at the Beach Ave and Broughton Viewing Area and two (2) at the West End Community Centre. This enables everyone to celebrate the day with their friends and family while ensuring there is enough space for those who need it.

Guidelines

We appreciate your cooperation in co-creating a space that is inclusive to all of our attendees. If you are an able bodied guest, please consider who the space is for.


Please Do Not:

wear scents/perfumes

smoke in or near the accessible viewing area

block access routes in the space/stand in front of porta potty doors

stand in front of those who are seated

bring your pets. Service animals only.

Please Do:

consider those who may have severe food allergies when bringing snacks

work with the volunteers who are working to make the space comfortable for everyone

let us know if there is anything we can do to make your day better

have a fabulous Pride!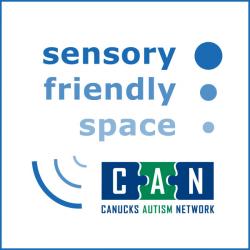 *NEW* Sensory Friendly Space
Sunset Beach Festival features a Sensory Friendly Space provided by Canucks Autism Network. This provides Parade and Sunset Beach attendees with the opportunity to take a break from the crowds. Guests can use noise cancelling headphones, stim toys and fidgets.

The Sensory Friendly Space is located behind the Accessible Parade Viewing Area at Beach Avenue and Broughton.

Descriptive Narration for Visually Impaired Community
The 2018 Vancouver Pride Parade will be described for people who are blind and partially sighted by VocalEye. Headsets and priority seating will be provided free of charge for people with vision loss in the Accessible Parade Viewing Area from 11 am to 3 pm on Parade Day. Reservations are required. Seating and equipment are limited.


Vancouver Pride provides specific accessibility services for seniors, members of Deaf communities, and people with disabilities.


Specific Event Accessibility Info
Find event specific access information on the bottom of our event pages.

To inquire about an accessibility service or reserve an accessibility area space on Parade day, contact us at:
Email: accessibility@vancouverpride.ca
Phone: 604-687-0955