Calendar :: Official Events
Upcoming Events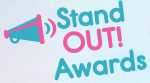 Do you know someone who Stands Out?

Help us recognize the leaders in our communities at the 2018 StandOUT! Awards on May 24 at the Pinnacle Hotel.
East Side Pride offers a chance to take in the work of local artisans and learn more about community groups doing important work in and with the LGBTQ2AI+ community in Vancouver.
The Vancouver Pride Society is proud to host Pride Sports Day, bringing members of the LGBTQ2+ community and their allies together for a fun, active, and inclusive day of celebration at Second Beach