Terry Wallace Memorial Breakfast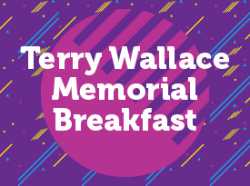 When:
Saturday August 4 at 8:00AM

Where:
Jim Deva Plaza - 1200 Bute Street

Visit Facebook Event
About:

August 4, 2018 - 8am-12pm
Jim Deva Plaza, 1200 Bute Steet

Enjoy a buffet by-donation pancake breakfast in Jim Deva Plaza to commemorate one of our society's founders, Terry Wallace. This event is made possible with fabulous food and passionate volunteers from Your Independent Grocer

Terry Wallace, manager of the Castle Pub, raised money through the pub through 50/50's and pull-tab machines to fund the Pride Parade through years of financial uncertainty. Terry Wallace died in 2004 and is remembered as a gentle peacekeeper who worked out of the spotlight.

****Getting to Jim Deva Plaza****

Jim Deva Plaza is located in the heart of Davie Village, at Davie and Bute St. You can access it by via transit along the number 6 route or the C23. There is limited street pay parking around the Plaza, and pay parking available underneath the Upper Deck Restaurant off Daive Street.

****Access Information****
If you require any assistance related to accessibility or have any questions please contact accessibility@vancouverpride.ca.

The Jim Deva Plaza is a flat, cement area with tables arranged so those using mobility devices can navigate the area. Volunteers are available to assist at the buffet.


We recognize this event takes place on the unceded, occupied territories of the x?m??kw?y??m (Musqueam), S?wx?wú7mesh (Squamish),and S?l?ílw?ta?/Selilwitulh (Tsleil-Waututh) peoples and are thankful to our hosts in their stewardship of the land for time immemorial.