Davie Village Promenade - Saturday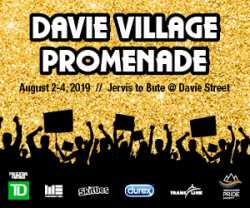 When:
Saturday August 3 at 12:00PM

Where:
Davie Street - Jervis to Thurlow

Visit Facebook Event
About:

The Davie Village Promenade is a free, all-ages three-day event taking place in the historic Davie Village from Jervis to Thurlow.

Friday, August 2 - 6-11pm
Saturday, August 3 - 12pm-10pm
Sunday, August 4 - 12pm -11pm


Saturday - August 3


Join us Saturday morning for the Terry Wallace Memorial Breakfast and stay for a day of entertainment in the Davie Village Promenade.

Davie East Stage

3:00pm AWood
6:00pm Idris Hudson
7:55pm Denique

Pride Patio Stage

1:00pm Elated featuring special guest Jessika Dawn
2:30pm Chronfused
4:00pm Tuck Entertainment Inc. Drag Showcase
5:00pm James Ellis Radio
8:00pm Biawanna
9:00pm Tuck Entertainment Inc. Drag Showcase

Street Performance

1:00pm VYVE
2:15pm Capri Everitt
3:00pm Cirque les Résidus
5:00pm Cirque du Soleil - Luzia
6:00pm Alien Hoop
7:00pm Chronfused

**Featuring**


Information Booth - grab a Pride Guide and Queer Vancouver Map, learn about the Vancouver Pride Society, buy merch, play games and win prizes

Pride Patio - 19+ area at Davie/Bute where you can enjoy a cold beverage while watching performances

Interactive art
- Daisy by eatART Foundation
- Hfour
- Love Begets Love by Gabrielle Odowichuk and Marie Specht

Al fresco dining

Kids Play Area
-Drag story time
-Face painting
-All-ages games

Roving street performers including fire dancing and LED shows

Stage with musical performances and DJs

Paintillio

Neighbors and visitors alike are invited to take advantage of Vancouver's warm and sunny August weather and enjoy dining al fresco on a temporary patio extension at one of the many restaurants Davie Village has to offer. Thirsty guests in the area can stop in at the Pop-up Pride Patio on Bute Street across from Jim Deva Plaza to enjoy a beverage with friends in the afternoon or between Pride parties.

Davie Village will come alive with large-scale interactive art pieces by local artists and roving busking-style performances. Picnic tables and lounging areas throughout the street provide a place to picnic, take in a performance, and have a conversation. Don't miss the annual Terry Wallace Memorial Breakfast 2019, August 3, 2019 from 8am-12pm, or Untoxicated 2019 starring Alaska Thunderfuck, Bob The Drag Queen, and Violet Chachki. Both events will occur within the Davie Village Promenade.

Visitors and locals with questions about Pride Weekend and the Vancouver Pride Society can pick up a 2019 Pride Guide and Queer Vancouver Map, have their questions answered by knowledgeable staff, and learn about LGBTQAI2+ history and literacy at the Vancouver Pride Society booth in Jim Deva Plaza.

Vancouver Pride Society invites you to meet your friends, interact with art, dine, lounge, grab a drink, have a conversation, and reclaim public space at the Davie Village Promenade - a place to gather.