Blenz One Day Fundraiser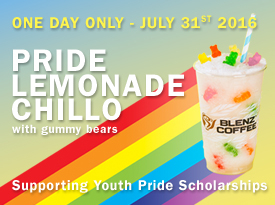 On July 31st, 2016, Blenz Coffee is supporting Vancouver Pride by launching a one-day Pride Lemoande Chillo drink at select stores! For every Pride Lemonade Chillo purchased on July 31st, Blenz will donate $0.50 to Pride Youth Scholarships.
Supporting the pride community goes without question for Blenz. They strive to build an open, inclusive, and welcoming culture - not only in their work environment - but also for every person that steps foot into their stores. This year Blenz is going above and beyond by not only dedicating a promotional drink for the celebration but they will also be decorating their stores and handing out rainbow Blenz Coffee beach balls to the crowds during the pride parade!
"We stand strongly united and Blenz Coffee stands behind and fully supports the LGBTQ community." says Janelle Saccucci. The Pride Lemonade Chillo can be purchased for $4.50. The drink is handmade with refreshing lemonade and juicy Stone Fruit syrup (cherry, peach, apricot) blended with ice and topped with vibrant gummy bears and a colourful straw!
Purchase the Pride Lemonade Chillo at the following West End locations:
1) Davie Blenz - 1203 Davie Street
2) Denman Blenz - 935 Denman Street
3) Robson Blenz - 1201 Robson Street
4) Robson West Blenz - 1615 Robson Street
5) Granville North Blenz -700 Davie Street