Skip the Dishes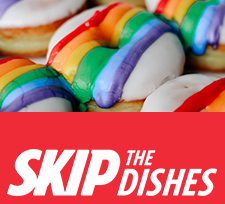 Skip the Dishes is proud to announce that we've partnered with Pride organizations across Canada and will be at the Vancouver Parade and Festival!
"We respect and celebrate the Pride community and diversity across Canada. Everyone can celebrate Pride with us by ordering Skip delivery and using the special code at check out" said Kendall Bishop, Director of Marketing for SkipTheDishes.
To celebrate diversity, Skip the Dishes will donate $1 to Vancouver Pride Society every time you use voucher code VANCOUVERPRIDE from now until August 7, 2018. Order great food from across the city and show your support without adding any additional charge to our order. Just check out using VANCOUERPRIDE and Skip theDishes makes a donation on your behalf. It doesn't get any easier than that!!