Big Pride 50/50 Lotto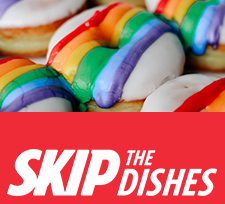 The Big Pride 2017 50/50 lotto will fund three amazing programs during our 2018 season. This year, we have launched our Pride Greening Strategy to make our events more environmentally sustainable. Funds from this year's 50/50 will assist in expanding our programs in 2018. Vancouver Pride does not qualify for most greening or eco-grants and therefore we need to create a community funded model.
Funds will also be used to create more space for community entries in the annual pride parade. Partial funds will be allocated in maintaining our parade subsidy for local community groups. In addition this funding stream will allow Vancouver Pride to provide micro-grants to assist non-profit organizations in purchasing supplies or customes for their parade entry.
Finally the funds will help support our Pride Knowledge exchange program. Community groups or individuals will be able to apply for a small bursaries to attend or create events and bring what they learned back into the community.
The Big Pride 50/50 lotto keeps growing. Click to purchase tickets and Good Luck!!
BUY NOW»