Charity of the Month Roundhouse Radio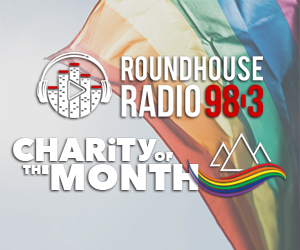 We know that, for some young people, pursuing their career dreams can be expensive. So once again Vancouver Pride has teamed up with LOUD Business to fund Pride Youth Grants. This year our goal is to provide grants to three outstanding youth who will each receive $2000 toward their post-secondary education. Learn more about the grant HERE.
Vancouver Pride Society works with corporate & small business partners to raise funds so we can continue awarding scholarships. If you are a business owner who wants to host a fundraiser or in-store campaign to support Pride Youth Grants, contact Vancouver Pride with your ideas by emailing Office@vancouverpride.ca
As part of our philanthropic arm, the Pride Society gives back to the community through local organizations such as the LOUD Scholarship Foundation. The LOUD Foundation (registered non-profit) awards scholarships to students who show promise to be future leaders in the LGBTTQ+ community. Funds raised through this Charity of the Month initiative will be donated towards the LOUD scholarship youth campaign.
Join the Roundhouse Radio Community and you will gain access to:
- Station events
- Invitations to exclusive Roundhouse performances
- Contests
- Roundhouse Radio Videos and podcasts
- A subscription to our monthly E-Newsletter
For every NEW Membership, Roundhouse Radio will donate $1 to a local community group (up to a maximum of $1000.00)
JOIN NOW»