2019 Food Vendor Application (Wait Listing)
All events now Waitlisting
Food vendor spaces for all events are NOW waitlisting. Check back in September for 2020 application information.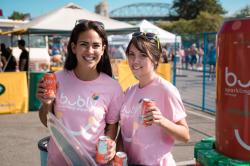 Food Vendors
All events are subject to capacity restrictions and usually reach these limits well in advance of June 22nd (the official application closing date). The Vancouver Pride Society endeavors to prioritize local organizations whose values align with the event applied for. We are seeking unique food and beverage options, providers that can cater to a variety of dietary needs, and those who use environmentally conscious serving ware.

Vendors must be self sufficient for their power and water/sanitation needs.

Please familiarize yourself with the Terms and Conditions and Rate Card before submitting your application.

You will receive emailed confirmation that your submission has been received and a time frame for notification of the success of your application.
Refund Policy
Exhibitors who request a refund between 60 and 90 days from the event date will receive a refund of 50% of their vendor fee.
No refunds will be issued within 60 days of the event, or post-event.
Please see the Terms and Conditions for more information.
Permit to Operate
As per our agreement with the City and Vancouver Parks Board, all of our vendors must provide a temporary permit to operate from Vancouver Coastal Health (if you don't hold an annual permit already), as well as special event liability insurance.
Insurance (Applicable To All Booth-Holders)
We have found that most vendors do already hold a general insurance policy. These vendors will need to contact their broker/provider and request an amendment that explicitly covers them for the event. For vendors who do not already have a provider, we would be happy to recommend a broker who specializes in this type of insurance.

Please have your broker/provider forward to you a Certificate of Insurance (COI) that includes the following coverage:

- Minimum $2 Million General Liability Coverage
- Additionally insuring: the City of Vancouver, Vancouver Board of Parks and Recreation, and the Vancouver Pride Society including its Directors, Employees, Contractors, and Volunteers.
- The date of the event(s) you will be vending at

Note that a copy of your Certificate of Insurance must be submitted to the VPS by June 21st.
We do not require a copy of the insurance policy.

Your broker may request additional information such as event location and details about your operation. They may also request the following addresses

City of Vancouver
453 W 12th Ave
Vancouver, BC V5Y 1V4

Vancouver Board of
Parks and Recreation
Administration Office
2099 Beach Avenue
Vancouver, BC V6G 1Z4

Vancouver Pride Society
304-1080 Howe Street
Vancouver, BC
V6Z 2T1
Food Vendor Application