GOSSiP! PRiDE!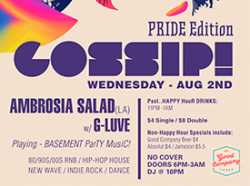 When:
Wednesday August 2 at 10:00PM

Where:
1181 - 1181 Davie St


About:

Wednesday nights at 1181 is Davie Street's only spot to hear Basement House / 80's / 90's / 00's R&B / Hip-Hop House / New Wave and Dance music with music from DJ G-LUVE.

#GOSSIP! is Davie's industry night in the West End, where anyone is welcome as long as you bring your good vibes!

Special guest DJ /Ambrosia Salad (LA) -Performance Artist. DJ. Mother. Temptress. Eat Me.