Pride Undie Run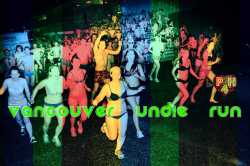 When:
Friday August 4 at 5:30PM

Where:
Vancouver Art Gallery (ending at Davie Street)

Visit Website Visit Facebook Event
About:

A brief jog in your underwear through the urban center of Vancouver with tunes ? ending at the Davie Street Block Party for a giant dance party.

Take off your clothes for Charity - all clothing left behind will be donated!

Health Canada recommends that "[adults] accumulate at least 2 1/2 hours of moderate to vigorous physical activity, each week and that children and youth accumulate at least 60 minutes per day." Let's do it!