Bye Felicia - She's Baaack! Lucy Stoole (Chi) + Karmella Barr + Alma Bitches w/DJ G-Luve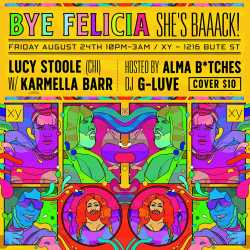 When:
Friday August 24 at 10:00PM

Where:
XY 1216 Bute St

Visit Website Buy Tickets
About:

BYE FELICIA! She's BAAACK! - special guests LUCY STOOLE "Chicago" + Karmella Barr

Adv TiX - $8 (EventBrite)
Door - $10

The perfect dismissal, "Bye Felicia!" is a goodbye given to any unwanted, irritating, or disliked person, place or thing.

Are you ready for Chicago's Black, Bearded Beauty and Vancouver's #ChocolateQueen?

Can you say "DANCE PARTY"!?!
ANYTHiNG GOeS! // 80s pop //Millennial // DANCE //RnB Remixes



RESiDENT QUEEN - Alma B Itches - It's not be itches!

A bearded queen who currently hosts Sanctuary Sundays at 1181 & The SheQuel at XYYVR. She has one mission at the party: to slay you and give you life! Werk!

DjG Luve - Born at a HoUSE PARTY!


Lucy Stoole
Lucy Stoole is Chicago's Black, Bearded Beauty. She wants nothing more than your love and undivided attention and she will get it one way or another!

Karmella Barr
Vancouver's #ChocolateQueen, Drag Performer. Everyone's sassy black friend; #EverythingIsBetterWithChocolate. Miss Congeniality 2016.