Terry Wallace Memorial Breakfast 2019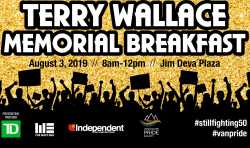 When:
Saturday August 3 at 8:00AM

Where:
Jim Deva Plaza

Visit Facebook Event
About:

Enjoy a buffet by-donation pancake breakfast in Jim Deva Plaza to commemorate one of our society's founders, Terry Wallace. Breakfast has been provided by Your Independent Grocer

Terry Wallace, manager of the Castle Pub, raised money through the pub's 50/50 and pull-tab machines to fund the Pride Parade through years of financial uncertainty. Terry Wallace died in 2004 and is remembered fondly.

Getting to Jim Deva Plaza

Jim Deva Plaza is located in the heart of Davie Village, at Davie and Bute St.

Road closures along Davie Street between Thurlow and Jervis will be in effect. Please check back for updates on transit re-routes.

There are bicycle racks near the plaza along Davie street.

Access Information

The Jim Deva Plaza is a flat, cement area with tables arranged so those using mobility devices can navigate the area. Volunteers are available to assist at the buffet.