VPS launches QTBIPOC Consultations
Monday Feb 25, 2019
We Are Listening

A Commitment to Change
Vancouver Pride Society (VPS) is aware that Pride events around the world, including here in Vancouver, have often done a poor job at welcoming all members of our communities. Our board and staff are committed to creating changes at VPS to turn that around.

In 2016, we began a consultation process to hear from you - this resulted in a report with several recommendations which we have been implementing over the past few years. Your feedback created real changes.

We know that we don't have all the answers and that oppressed communities are the experts on their own needs and experiences - we are committed to listening to you and finding ways to change and improve so that more people can enjoy Pride.
QTBIPOC Consultation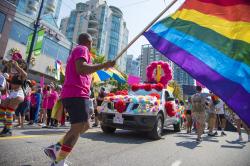 We want your feedback
VPS is launching a QTBIPOC (Queer, Trans, Black, Indigenous, People of Colour) consultation in an ongoing effort to reduce barriers, create more welcoming events, and support community initiatives.

We are gathering information from QTBIPOC community members about volunteering or applying for jobs with VPS, and attending our events as participants, spectators, vendors and performers. We care about your feedback - the results of this consultation, along with information gathered from our 2016-2017 consultations, will directly influence long-term event planning, including the future development of QTBIPOC spaces at VPS events and an assessment of our practices and policies.

You can submit your feedback through a variety of venues. Please fill out our Consultation Sign-Up form to be notified about upcoming opportunities:


Through an anonymous online survey


At in-person community consultations (dates to be announced - get notifications by signing up through our Consultation Sign-Up form


At a private meeting, through e-mail or over the phone with our QPOC staff member who is leading the consultation - please fill out our Consultation Sign-Up form

If you are a community organization serving QTBIPOC community members we can organize a time to come to your upcoming group meetings/drop-in and collect feedback from your members. Please fill out our Consultation Sign-Up form and we will contact you to set up a time.


Expanded Community Partnerships Role
More resources for QTBIPOC communities
Our Community Partnerships Program is an important part of ensuring LGBTQAI2+ community organizations are supported by VPS. Through our Community Partnerships Program, we waive fees to be at our events, provide free equipment, and promote the work our partners are doing.

We know that we can not be everything for everyone, and that there are many organizations creating events for members of our communities who do not feel comfortable at Pride events; in recognition of this, we provide financial and in-kind support to community events so that more people have access to celebratory events.

We have expanded the role of our Community Partnerships Coordinator and are dedicating more resources to this position. This permanent staff position is now also dedicated to enhancing QTBIPOC experiences at Pride. Our new Community Partnerships Coordinator will be taking the lead in our consultation process and working with the staff and board at VPS to implement recommendations.
Welcome Serene Carter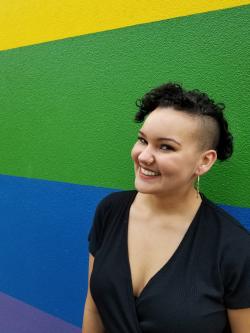 Our new Community Partnerships Coordinator
We are very proud to welcome Serene Carter (she/her/hers) to our team as our new Community Partnerships Coordinator. Serene believes representation and uplifting historically marginalized voices creates empowered and more resilient communities. She is a queer, Indian-Fijian, mixed-race femme of colour and settler on the ancestral, traditional, and unceeded territories of the Coast Salish peoples.

Serene has dedicated her professional life to working in Canadian non-profit settings, focusing her work in exploring the intersections of identities and examining what spaces need to better support the diversity of queer communities. When living her best life, Serene is regularly cooking elaborate meals, having solo dance parties, and creating memories with all of her families.

"I'm excited for VPS to connect meaningfully with QTBIPOC communities," says Serene, "I think it's time for Pride organizations to see and want to celebrate the accomplishments of BIPOC in queer movements and I'm proud to be part of an organization taking this step towards a more inclusive and equitable Pride."
Comments on Facebook