2019 AGM Notice
Thursday Nov 14, 2019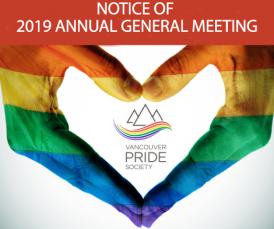 Dear Members,
Once again it is that time of year and the Vancouver Pride Society (VPS) invites you to the Annual General Meeting (AGM).
Key agenda items include:
Review of 2019 activities and Financial Statements
Bylaw changes - Proposed changes below - Election of Board of Directors - Bios of nominees below
To be eligible to vote at the AGM, members must be in good standing with their annual fees paid (lapsed members may renew their membership at the door). Government-issued identification is required for check-in.
If you have any questions or concerns please contact the AGM Committee by e-mail at office@vancouverpride.ca
Date: Saturday, November 30 2019
Time: 10:30am - 12:30pm
Location: 870 Denman Street in the Bidwell Room
There is a bus stop on Denman Street at Haro Street. There is also 2 hour parking on side streets and meter parking on Denman Street.
Coffee, tea and snacks will be served. Looking forward to seeing you!!

Yours In Pride
VPS Board of Directors

Proposed Bylaw Changes
Bylaw 68 - The Co-chairs, Secretary, Treasurer and up to five other persons shall comprise the Board of Directors (removing 'the Executive Director')
Bylaw 75 - The Executive Director is an ex-officio non-voting member of the Board of Directors (adding 'non-voting')
Election of Board of Directors
Vacant Directors positions:
Co Chair — 3 years
Treasurer — 2 year
3 x Director at Large — 2 year
Nominees are as follows:
CO-CHAIR
Charmaine de Silva
I have been involved with Vancouver Pride Society board for almost six years, first as a Director at Large, then briefly as Vice President, before serving my first term as Co-Chair. As a lesbian of colour, it has been incredible to be part of this organization as we have worked with others in our community to stand up for those whose voices have often been ignored. While I am proud of what we have accomplished, there is so much more work to do - especially around securing safety and visibility for the QTBIPOC communities.
My passion for sharing stories and raising voices is not just limited to pride. I'm the News Director at NEWS 1130, one of Canada's largest local newsrooms. And as a member of the program advisory committees for both Langara and BCIT's journalism programs, I love seeing the new generation of storytellers and journalists break down barriers and speak truth to power.
TREASURER
Darius Maze
Darius Maze is a certified fundraising professional who brings his expertise in diversity, inclusion, and social justice to community engagement and development. With over five years of experience in the social service sector, he is deeply committed to supporting communities who experience social isolation and launched A-mazing Solutions to support non-profits in building relationships with these groups.
He is grateful to be able work and play on the lands of the Musqueam, Squamish and Tsleil-Waututh nations as a volunteer and board member for the Association of Neighbourhood Houses of BC, the Vancouver Pride Society, the Friends of the Vancouver Public Library, the Association of Fundraising Professionals, as well as the Vancouver Foundation, Imagine Canada, and Vantage Point.

3 x DIRECTORS at Large
Abdollah Fooladkhai
I have been fortunate enough to live and study in the UAE and Cyprus, where I had an opportunity to experience and understand diverse backgrounds and cultural differences in real contexts. Graduating with a master of business administration from American University of Sharjah (UAE) and Bachelor of human resources management from Eastern Mediterranean University, Famagusta, (North Cyprus) was a stepping stone for me, when I could link and reflect on what I had learned with those that I had experienced.
I started my career as a research assistant in the field of human resources management at the American University of Sharjah, UAE. My research responsibilities were evolving around strategic human resources management and talent management best practices in the Middle East. Few years later, 4 joined Pearl Initiative, a private non-profit organization, in the capacity of program assistant where we were so proud of promoting the culture of accountability and transparency. Moreover, I executed few consulting projects for startups in both UAE and Iran.
Ever since I moved to Vancouver BC, I have tried my best to engage more in the LCBTQ2S+ community. Now, for the first time I feel that I have a chance to contribute to the community that I have always so profoundly felt related to and a part of. Being actively engaged and volunteering for different organizations and networking with different individuals allowed me to contribute to my community, using my knowledge and skills. Becoming a member of the board of directors at the Vancouver Pride Society, is a great opportunity for me to put my leadership skills into practice. I believe I can make an impact on my community and provide a better life for each and every member of our community, at my best.

Catherine Jenkins
Catherine has served as Director-At-Large on the Board of Directors for the Vancouver Pride Society since February 2017. Prior to joining the board, she helped on the Parade Working Group. Additionally, she volunteers on the organizing committee for PFLAG Vancouver, advocates for change to public policy for blood deferral criteria for trans people and men who have sex with men, and works to support trans, gender diverse and Two-Spirit people in the Vancouver Coastal Health region to create a regional peer support network. Her passions focus on human rights and peer supports for LGBTQ2+ persons and their family & friends. Catherine received her PhD in cell biology in 2017 at the University of British Columbia, where she won multiple awards and co-authored 9 publications on the pathogenesis of leukemia. During her graduate studies, she gained her initial experience with governance in graduate student associations. Catherine loves to support activism, volunteer in political campaigns, and learn new things. She enjoys collecting records, painting and considers herself a cinephile. Catherine offers skills in project management, governance, public engagement, and lived experience as a trans woman to the Vancouver Pride Society if elected to the board.

Danny Ramadan
Ahmad Danny Ramadan is an award-winning Syrian-Canadian author, public speaker and LGBTQ-refugees activist. Since his arrival to Canada as a refugee, Ramadan published his award-winning debut novel, The Clothesline Swing. He is currently working on his next novel, The Foghorn Echoes, and a collection of short fiction, The Syrian Survival Notebook. His children book, Salma the Syrian Chef, published by Annick Press, is to be released in 2020. Ramadan was also named among the Top Immigrants to Canada 2017, won the Social Activist StandOut Award, and the Independent Publishers Book Award for LGBTQ fiction among others. Ramadan is currently finishing his Masters in Fine Arts - Creative Writing at UBC and lives with his husband-in-training in Vancouver.
Comments on Facebook