Upcoming Events
Unicorns, Sparkles, and Balls - Oh My!

Come to Vancouver Pride Society's Unicorn Ball and raise funds for community groups at a magical winter fundraiser.
DanceHouse, SFU Woodward's Cultural Programs, and Talking Stick Festival Present ILBIJERRI Theatre Company's Blood on the Dance Floor by Jacob Boehme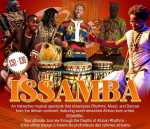 Your unforgettable Journey Through the Depths of African Rhythms. ISSAMBA SHOW is an interactive musical spectacle which showcases African Rhythms & Music.